Charlie Wright & Alex Clarke with the Andrzej Baranek Trio
---
Alsager Golf & Country Club, Audley Rd, Alsager. ST7 2UR
23rd Nov 2023 - 23rd Nov 2023
Thursday 30th November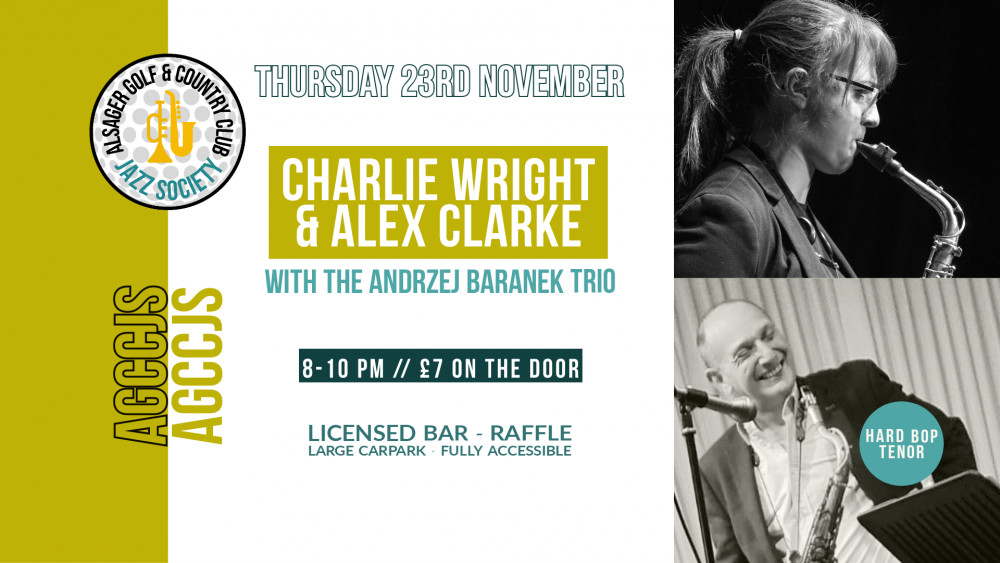 On Thursday 23rd November 2023, Alsager Golf & Country Club Jazz Society are excited to welcome back two great friends and musicians: Charlie Wright & Alex Clarke.
Sporting a rich, hard bop sound reminiscent of the likes of Tubby Hayes and Pete Christlieb, Wright has developed a reputation as a versatile, sensitive musician performing with the likes of Dave Newton and Bruce Adams. With over 40 years experience, Wright is a real firm favourite with jazz audiences all around the Midlands and North-West.
As a finalist at the BBC Young Jazz Musician of the Year 2020, winner of the Rising Star category in the 2019 British Jazz Awards and Jazz Newcomer of the Year nominee in the 2021 & 2022 Parliamentary Jazz Awards, Clarke is one of the most in-demand and versatile young reeds players to have emerged on the British jazz scene. Praised for her extensive repertoire list and intelligent ear for harmony, Clarke's sound is steeped in the tradition of bebop. Her deep respect for the heritage of the music can be heard in a hard-swinging, melodic approach reminiscent of Scott Hamilton and Lester Young, with strong bop influences of Phil Woods and Cannonball Adderley. As well as leading her own quartet featuring Dave Newton, Dave Green & Clark Tracey, Clarke performs alongside many notable names such as Alan Barnes, Bruce Adams and Art Themen. She also works with prestigious large ensembles such as The Simon Spillett Big Band and The Ronnie Scott's Jazz Orchestra.
Leading the house trio will be one of the most highly regarded jazz piano players in the region, not to mention club favourite, Andrzej Baranek. Baranek's versatile sound draws on harmonic influences from Bill Evans right through to McCoy Tyner, and his sympathetic and adaptable comping brings out the very best of any horn player and vocalist he works with. Completing the lineup will be our superb house musicians, Peter Robinson (bass) and Roger Keay (drums).
It starts at the golf club (ST7 2UR) at 8pm; all are welcome, £7 cash on the door with a raffle.
Add your Alsager event for FREE here!
Nub It